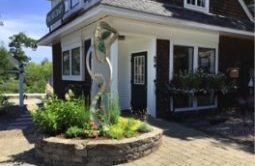 This July the League of NH Craftsmen – Meredith Fine Craft Gallery will be hosting an exhibit titled "Patterns in Time", a collaborative effort by League artists Doug Masury and Becky Sawyer. The exhibit features scarves, shawls, and jewelry inspired by the patterns of stained glass, scarification, and Frank Lloyd Wright.
BROWSE Patterns In Time
Call or visit the Meredith Gallery for additional fine craft by local artists!