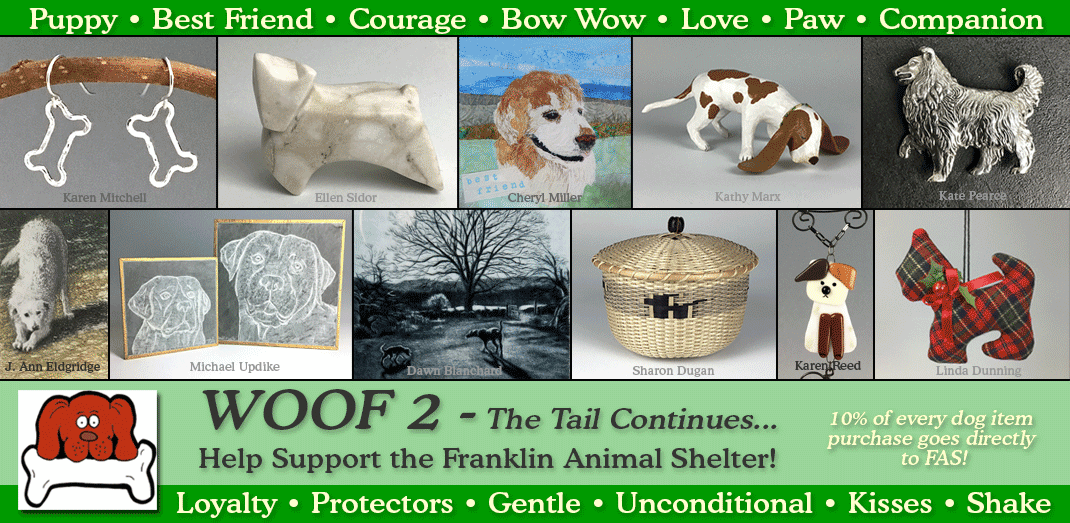 From August 1st through the 31st, the League of NH Craftsmen Meredith Fine Craft Gallery will host an exhibit of fine craft titled "Woof II: The Tail Continues" dedicated to man's best friend. We have something for every dog lover to enjoy during the month of August.
Participating League juried artists have created works of art specifically to honor our furry friends. Artists Karen Mitchell has created dog-themed silver jewelry for the dog fanatic in your life, Dawn Blanchard with her dog prints to hang on your wall, or Cheryl Miller's fabric collages depicting dogs to decorate your home.
Choose any of the items in the collection shown below and 10% of the proceeds for each dog item sold will be donated to the Franklin Animal Shelter. Their goal is to shelter, care for, and advocate for the abused, neglected and abandoned cats and dogs of the communities we serve by taking steps to control overpopulation and providing healthy animals that will be adopted into loving 'forever' homes.