Clay Fiber  Glass  Metal  Mixed Media  Non-Metal Jewelry  Photography  Printmaking Wood
(click above to be directed to each media category)
Congratulations to our newly juried members!
---
Clay
John Boland

John Boland, a native of Seattle Washington was raised in a predominantly Asian community. He quickly acquired an appreciation of Asian aesthetics, particularly the ceramic traditions of Japan, Korea and China. His ceramic interests were encouraged by Robert Sperry at the University of Washington and later Jorge Wilmot and Ken Edwards of Tonola, Mexico. John started Sugar River Pottery in February 2022 where he is producing on a smaller scale in his studio in Claremont, NH.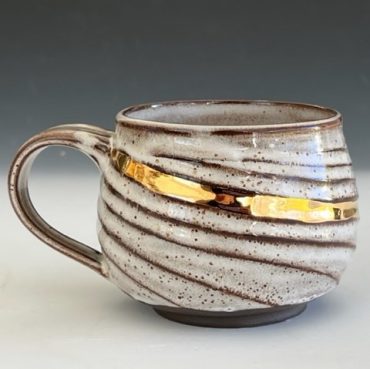 Georgia Donnelly

Georgia Donnelly is a studio potter living and working in New Hampshire. After apprenticing under a Master Potter in Livingston NJ, she studied pottery in southern France and then became a production potter for 2 different commercial pottery studios in New England. She has taught ceramics and pottery at elementary schools, art centers and universities. She has been working with clay since 1996.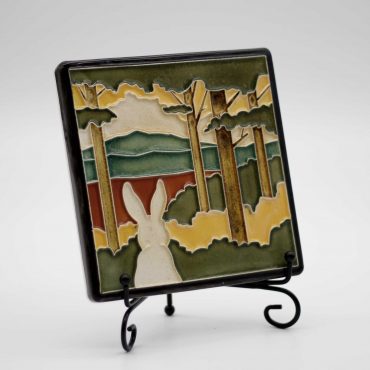 Yuan Pan
Yuan Pan is an artist, designer, and craftsman. He is the owner of Goose Pond Tileworks and has over 25 years of experience in art and design. He specializes in carved relief ceramic tiles that can be displayed as individual artwork or installed as accents. Yuan received his education in China, New Zealand, and the United States. His work has been exhibited locally, nationally, and internationally. Yuan lives with his family in beautiful Westmoreland, NH.
Donna Pioli
Donna strives to create bright, touchable pottery. Her signature ruffle details imbue a playful, organic element to her ceramic vessels. Utilizing both electric kilns and wood fired kilns, she chooses glazes and finishes that highlight her bold, undulating forms. She delights in the tedium and rhythm of adding textural details.
Fiber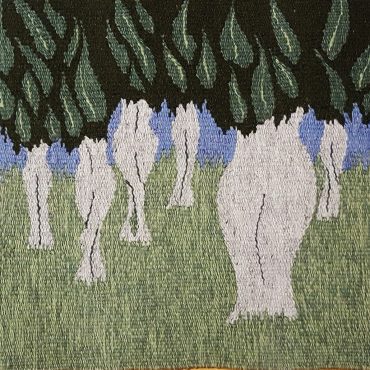 Lisa Almeida
Lisa is a contemporary tapestry weaver – a weft-facing discontinuous hand-woven technique. She primarily weaves with wool, but has begun working with linen and other natural fibers. Most of her work is inspired by her surroundings, including the natural world and human events. Flowing curves and gradient shading are recurrent themes in her work along with creating sculptural additions.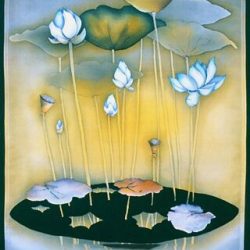 Kirananda Benjamin
Kira has returned to us at the League from a three year retreat. Her inspiration for her surface design work comes from Japanese textile traditions, nature, poetry, meditation and her travels. She makes wall hangings, ties, and scarves. She uses wax-resist Rozome techniques as well as Shibori bond-resists. She stitches, uses applique, and fabric collage elements as accents. She has recently expanded into using botanical watercolors printed on fabric as giclee prints and stitched.
Maggie Burnett
Maggie Burnett studied art at Mount Holyoke College and continues to participate in classes and workshops throughout New England. She has exhibited her work in CT, MA, VT, and NH . Since moving to White River Junction, VT, Maggie has worked at AVA Gallery and Art Center and is the owner of Mae in White River Junction, VT where she creates hand-dyed home décor.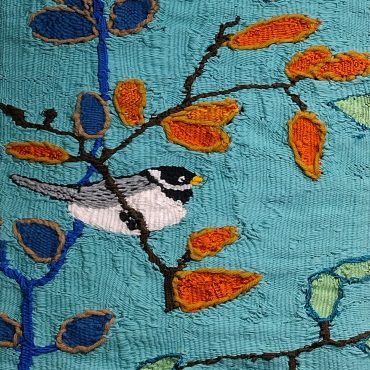 Helen Fitzgerald
Helen's tapestries are inspired by the beauty and rhythms of the natural world. She intends for the weavings to be both acknowledgment as well as an archive of the plants and animals threatened by climate change. The weavings recognize the extraordinary worth of the natural world and offer a tangible 'namaste' to all living creatures.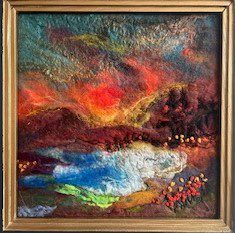 Janet Gordon
Janet is a felter who felts primarily shawls, cowls, and landscapes which have her signature touch of added sculptural effects with the use of needle felting techniques, embroidery and machine sewing. At the heart of Janet's work is the exploration of color. The impulse for her work arises from entering into the inter-play of color with all of its moods and dynamic relationships that unfold as the colors move together and away from one another. She uses the finest merino wool which is hand dyed and wet felted together with silk materials and a variety of fibers to create texture and design.
Katie Pugliese
Katie's needle felted sculptures are a reminder to everyone that magic is not just for children. While viewing her creations, people smile or laugh, enjoying their brief escape from reality and re-entering a world of whimsy where fairies ride hares, giraffes knit extra-long scarves, and imagination is a necessity. Magic makes the mundane more palatable and this world could certainly use it!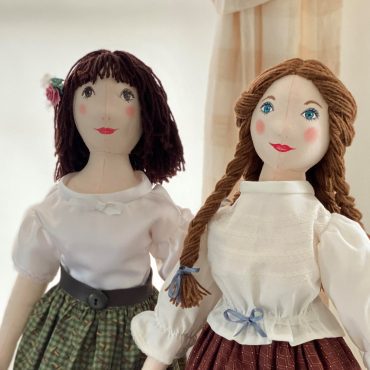 Rebecca McGovern
Rebecca started early making soft sculptured fabric creations. Coming from a family of sewers it was inevitable that she would inherit the love of sewing and crafting. Being a decorative painter has contributed to the skills of painting tiny faces. She has certification in porcelain dolls and has taught classes at local quilt shops. Her line of original doll, toy and appliqué quilt patterns is currently being sold online and in quilt stores.
Cindy Walsh
Cindy designs garments and hand made coats, jackets, hats & gloves that are embellished with unique collage elements such as embossing, appliques, piecing, stitching and ribbon trims. She focuses on creating fleeces, rain wear and ultrasuede. She also has a new line of cotton tunic dresses with similar applique. 
---
Glass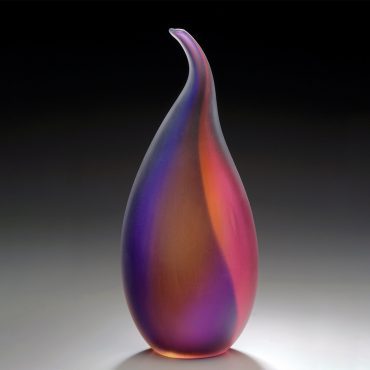 Caitlyn Burch
Caitlin has been a full time glass artist for 20 years. She has been a member of the League for her lampwork jewelry for many years and has recently juried into glass blowing as well. She is a second generation glass blower and her keen sense of color and form are part of what make her work so distinctive.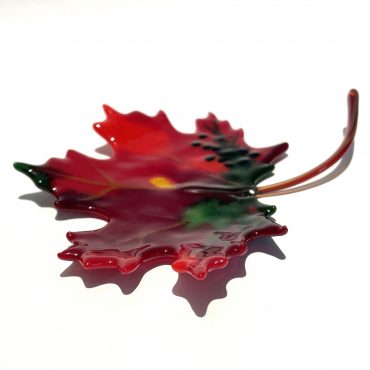 Verne Orlosk
Verne has worked in fused glass for the past twenty years. Previous artwork was represented in graphic design, mural painting and mentoring through teaching. Her degree in fine art and love of drawing is what motivates her fused glass designs. She created a painterly process of working strictly with glass powders and that technique is represented in her Fall leaf collections.
---
Metal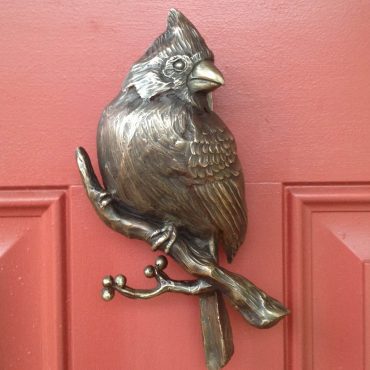 Lauren Dow
Lauren Dow is a metal sculptor in southern Maine practicing the art of lost wax bronze casting. She has a passion for community and is attracted to process driven work that involves many hands. She uses found objects and creates her original models using animals and plants from her garden and surrounding woods. Her work acts as a memorial for the ever changing and decaying world that often goes unnoticed.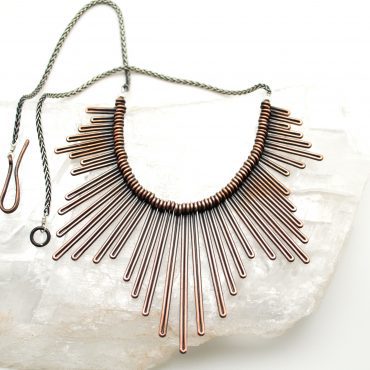 Melissa Fabbri
Melissa's jewelry evokes a sense of simplicity and flow. She is intrigued by the intimacy of jewelry making; from working closely with metal using tools, to grinding American mined gemstones by hand, to the connection of the piece and the wearer. Her muses are the mountains, lakes, and rivers, which constantly teaches her the power of simplicity. The reflection of birds flying across a still lake, the zig zag pattern of snowy mountain peaks, the texture of ice accumulating on the roots of a tree cascading into a river all translate into her wearable designs.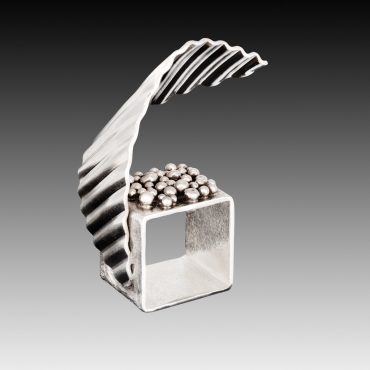 Tara Santoro
Tara loves creating one of a kind wearable art metal jewelry designs for the fashion fearless, for those who are not afraid of making a true fashion statement with a unique architectural, edgy accessory. Her body of work includes big bold rings, earrings and pendants, all hand fabricated in Sterling Silver. Her design aesthetic and inspiration are deeply rooted in her love of contemporary, minimal modern design and architecture, the art of the Bauhaus, and Mid-Century Modern design.
Dakota Slack
Dakota Slack is a bladesmith currently located in Warner, New Hampshire. Since he can remember he has always had a passion for blades and metalworks. He is a knife maker and a swordsmith, creating original and historically inspired designs. He employs all hand work in his creations including forging, grinding, and polishing. He was awared the Deutches Klingenmuseum Messerpries award in 2020 for chef knives.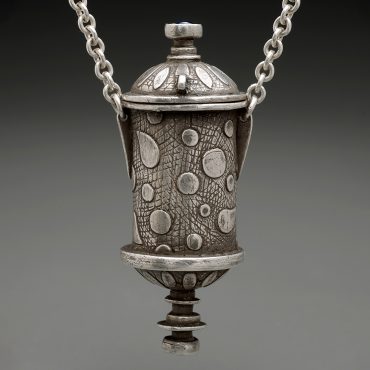 Hilary Taylor
Hilary works with metal clay (fine silver) as well as traditional metal smithing techniques. During the firing process the clay burns off in the kiln leaving the piece in silver. She combines the fine silver of metal clay and the ancient Korean technique of keum boo to accent her work with 24k gold. Her designs and textures are inspired often by nature and celestial images. She creates mostly pendants and earrings as well as cuff bracelets. 
---
Mixed Media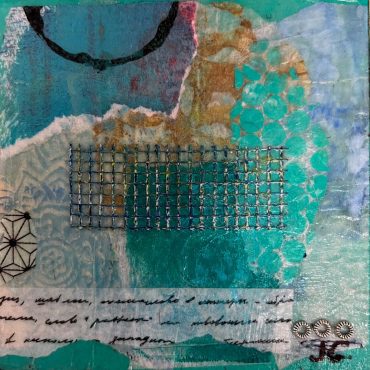 Jackie Griswold
Jackie Griswold is a mixed media collage artist who uses up-cycled and recycled materials including paint, paper that she has hand decorated, found objects, ribbon and lace, alcohol inks, stencils and stamps, glitter glue, vintage books and music sheets, and bits and bobs of ephemera that most people might not consider as art materials.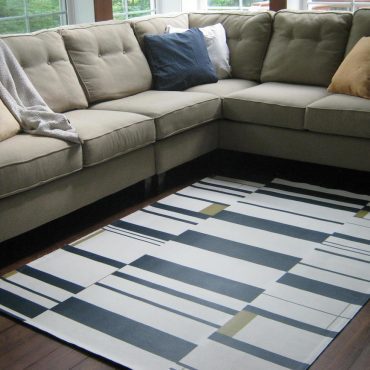 Jan Hartness
Jan Hartness designs and creates unique floor coverings. White Birch Canvas Rugs began as an idea in the house she built from scratch with her husband. Designing and making canvas rugs and floorcloths is a lost art. Her dream is to bring back this practical craft, which was popular in the 1800s. Canvas rugs began as a way for colonial homes to have their floors protected. Over time, this sensible aspect evolved into a way for people without means to have beautiful art in their homes.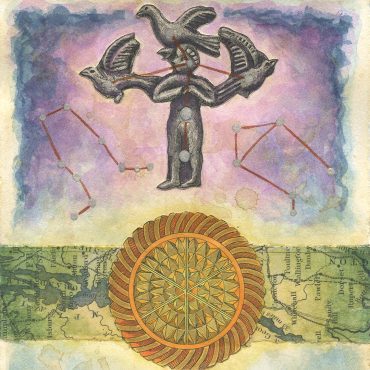 Lisa Laughy
Lisa is a juried member in wood working and was recently juried in mixed media with her collage works and hand bound books. Her collages incorporate paper in the form of engravings from old books, marbled endpapers, vintage maps, stamps, and other interesting bits of ephemera. She adds details by decorating with drawing and/or painting. Her hand bound books are sewn primarily using the Coptic stitch, and incorporate repurposed vintage and antique books covers, most featuring tooled leather and marbled paper. Since the Coptic stitch is an open-spine technique, she gives new life to old book covers with broken spines, and creates blank sketchbooks and journals that have a worn vintage feel.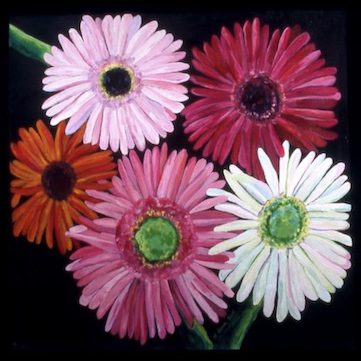 Sarah Minor
I have been a member of the Button Factory Studios Community in Portsmouth, NH since 1999. I received a BA in Studio Art from UNH in the late 70's. While my focus was on painting during college, I did not begin working on Canvas Floor Cloths until the late 90's and am basically self taught from a book by renowned FC artist Kathy Cooper. I am most attracted to colorful lively subject matter, like giant fruits and veggies and some floral. I have been accepted into many Juried Craft Shows across the country during the last twenty years, along with shows to benefit the Garden Club of America and other non-profit fundraisers. I am most at peace painting in my studio at the Button Factory.
Donald Moss
Don has been making furniture and sculptural objects for twenty years and over the last few years, his focus has been primarily on table lamps. His goal is to choose and combine materials that bring warmth, playfulness, and an element of surprise into our living spaces. Don is mostly drawn to humble materials: weathered wood, rusted fencing, rough metal tubing, recycled papers and fabrics.
Leo Reinhard
Leo makes marble sculptures and wire sculptures out of soldered copper wire that are either for hanging or tabletops. Most of his sculptures involve moving parts, specifically steel marbles.  Each marble track is one of a kind and built from the top down, occasionally incorporating other objects from wine bottles to Herkimer Diamonds.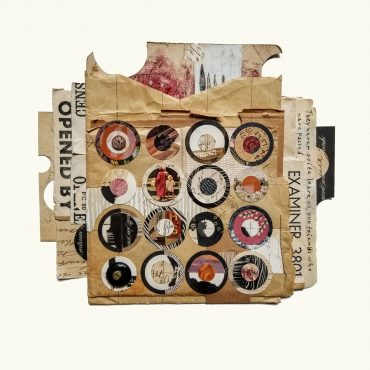 Susan Savory
Susan Savory was born and raised on the banks of the Susquehanna River in upstate New York. She moved to the seacoast of New Hampshire in 1980, after completing her BFA in Illustration at Parsons School of Design. She has experimented in almost every medium: painting and drawing, glass, clay, fiber and metal, and has shown her work in galleries and museums throughout New York, New England and California. She currently creates illustrations, largely for children's books, in cut paper collage, pencil and gouache. Her most recent personal work is an ongoing series of collages built with vintage photographs, letters and book pages, found and created papers, inks, graphite, and paint.
---
Non-Metal Jewelry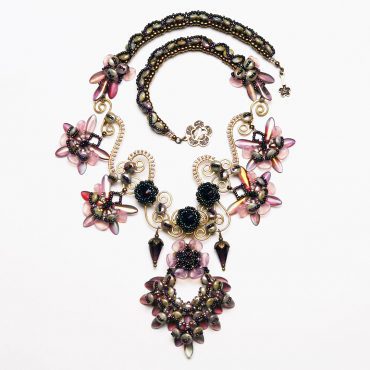 Thomasin Alyxander
Alyx is a bead-weaver who uses mostly seed beads and small (mostly Czech) glass beads in her work. She also uses textured metal in some of her designs. Most pieces are one-of-a-kind although some of them can be considered variations on a theme. She draws her inspiration from history, mythology, and natural history. 
---
Photography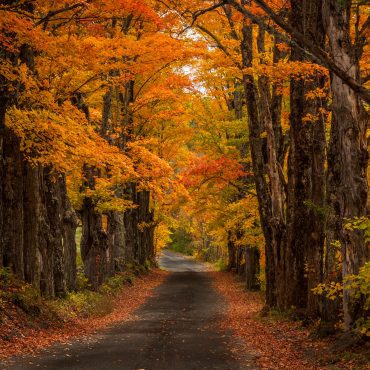 Christopher Argurkis
Chris started his journey with photography many years ago in his teens, back in the film days. Back then it was his hobby, today it's his profession and passion. He loves to photograph everything in the natural world including beautiful NH wildlife, landscapes, astrophotography to really close up insects shots.
Gay Ayers
Gay has been a free-lance photographer since the 1990's. Her recent work is focused on capturing small moments found in rural NH. She makes prints and cards with her elegant and understated imagery. 
Garrett Evans
Garrett's work is a wide variety of landscape, astrophotography, and wildlife photography. He is a photographer who loves adventure and the pictures and images he releases are his way of bringing the viewer along on his journeys. He goes out in all weather and conditions to capture his images, hiking up mountains in the dark to be at the top to see the sun as it rises over the surrounding peaks or kayaking to islands off the coast of Maine to camp for the night and watch the Milky Way over the dark Atlantic Ocean.
Jeremy Noyes
Jeremy is a fine art landscape/seascape photographer that specializes in high quality and large format prints. He prints his nature-based images on paper, metal, acrylic, and canvas.
Ed Thomas
I have been a commercial photographer for almost 40 years, shooting for companies and catalogues. Along the way I have always been involved in the fine art sector of photography, lately specializing in seeing the beauty in decrepit buildings and studying the history of such structures. Also, I am interested in photographing pieces of things such water or a rock and seeing the art on the inside. I still use film occasionally but am excited at the improvements I can make with the computer. It is also good to get some great shots using a minimum of equipment.
---
Printmaking
Kait Armstrong
Kait Armstrong has lived in New Hampshire for over twenty years. Her interest in art began at a young age and was encouraged by her family of creative thinkers. She attended Moore College of Art and Design in Philadelphia where she graduated with a BFA in textile design with an emphasis in color theory. In 2017 she attended a printmaking workshop at Haystack Mountain School of Crafts in Maine. This experience solidified her love of woodblock printmaking and it has been her primary medium ever since. Kait draws inspiration from beauty in the natural world, and utilizes printmaking to confront social and environmental issues.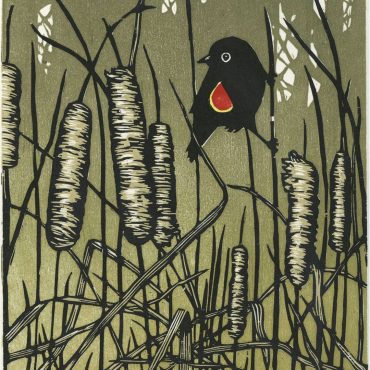 Sarah Koff
Sarah hand carves wood blocks and prints them either by hand or with her printing press. 
A former environmental educator with a masters' degree in ecological design, she has always been intrigued by the connection between humans and the natural world. As she has grown, so too has her drive to inspire people to become as invested in protecting the natural world as she is. From her woodcut studio, she strives to do just that, from telling stories with each print and creating hand-crafted reusable goods to lower our environmental impact.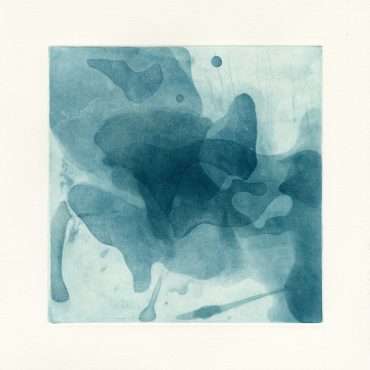 Anna Orbovich
Anna E. Orbovich is an artist working in printmaking, drawing and sculpture. As an avid outdoors-person Orbovich's time working and conducting research in the harsh and remote wild places ranging from the Arctic to the Desert to most recently the rugged Superior Hiking Trail in Northern Minnesota have vastly influenced the direction of her work. She is eager to explore the inspiration that comes from her new surroundings of the lakes, rivers, trails and mountains of New Hampshire.
---
Wood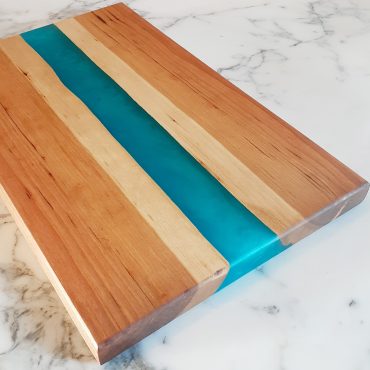 Daniel Bowen
Daniel's work consists of a mixture of all wood, to wood and resin designs. He works with wood ranging from walnut, maples, mahogany, cherry, oak, pine, mulberry, and more. He enjoys making objects such as cutting boards, charcuterie boards, and beer taster trays to name a few.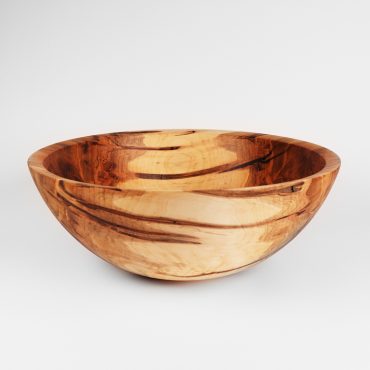 Bob Clark
Bob is primarily a bowl turner, but he also creates hollow forms. He turns bowls from green wood and passionately describes loving the smell and the moisture in the wood spraying out as he is using his lathe. After his pieces are dry, he reshapes them on the lathe again, as they move and warp during the drying process. He looks for pieces of wood that he hopes will have interesting coloration and patterns within them, bringing out the beauty of the wood as he works.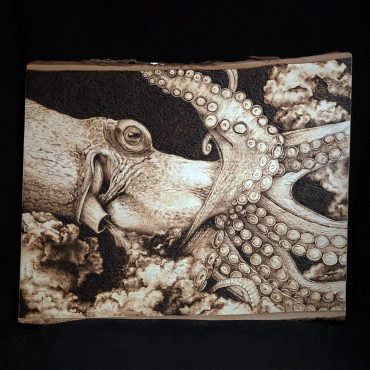 Sara Desjardins
Sara has a background in illustration and graphic design and creates her detailed work by using pyrography or wood burning techniques. She often depicts animals or sea creatures in action making very unique, narrative style wall hangings on wood.
Chuck Kidwell
Chuck Kidwell is a self-taught carver. He primarily works with traditional carving gouges and knives, creating finely rendered and detailed carved animals of eastern North America. Most of his carvings are finished without stains or paint using a hand rubbed polyurethane finish. He primarily works in basswood and butternut, walnut, and white pine.
Brad Owens
Brad is a woodworker who makes unique cutting boards and wooden kitchen utensils for specialized uses. His pieces are all one of a kind, made from a large variety of wood species, and enjoyable to use.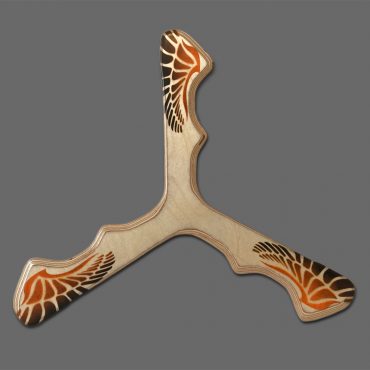 Victor Poulin
Since 2008, Vic has been providing exceptional boomerangs to his customers. With his great attention to detail and expertise, he personally creates all his products. He has been featured on shows like Discovery Channel's Outrageous Acts of Science, Tosh.O, Web TV's Right This Minute, Japan Public TV's NHK, WMUR's NH Chronicle, and is a boomerang consultant in an upcoming movie production.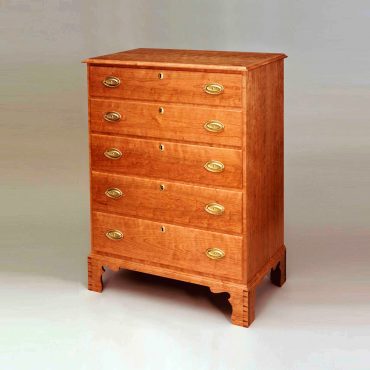 Bradley Wolcott
Bradley's love of design and woodworking began in the Hopkins Center Woodworking Studio at Dartmouth College. After graduation, he served four years as a cavalry officer in the United States Army including a 13 month combat tour in Iraq. Upon completing his service, he enrolled at the North Bennett Street School in Boston, Massachusetts to pursue a career in furniture making. This foundation of fine craftsmanship is reflected in his contemporary work where traditional techniques are combined with more organic, curvilinear forms to create furniture that is intended to last for generations. Today he works in Concord, NH creating custom furniture for clients throughout the United States.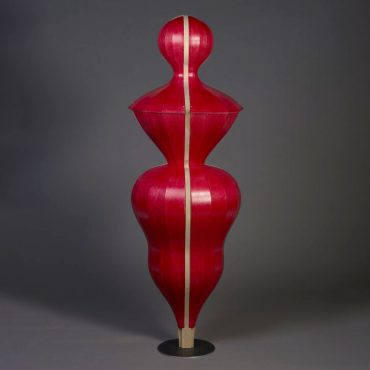 Leah Woods
Leah is a furniture maker and a sculptor. Over the years her work has evolved through cabinets, into dress forms, exploring geography and map-making, and currently chip carving. In all her work, she uses furniture making techniques, such as bent-lamination, mortise and tenon, dowels, veneer, and carving tools. Leah has been teaching furniture making since 2004, and currently runs the woodworking program at University of New Hampshire.