Clay  Fiber  Glass  Metal  Mixed Media  Non-Metal Jewelry  Photography  Wood
(click above to be directed to each media category)
Congratulations to our newly juried members!
---
Clay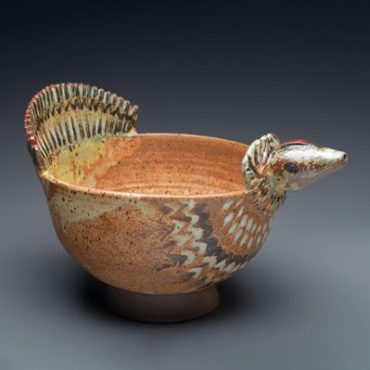 Mucuy Bolles
Mucuy uses many techniques such as throwing, hand building, and sculpting clay along with colored slips to make her unique pottery. She is heavily influenced by her Mayan heritage imbued with her own spirit.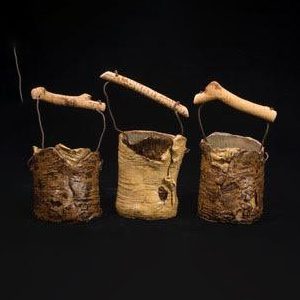 Christy Bonneau
Christy uses stoneware clay and predominately hand forms her work using slab and pinching techniques. Her work is inspired by nature using wood or leaves to create texture or simply as a reference. While her pieces are relatively practical in nature, she tends to push her audience to consider moving away from expectation and ease to a rather mindful appreciation and unexpected surprise.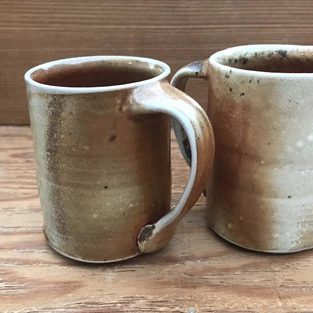 Noah Garrison
For Noah, pottery is all about community. He was taught by and continues to learn from a wonderful community of potters. He hopes to integrate handmade pottery into your daily life and that your life will be richer for it.
Lindi Gessin
Lindi makes vessels in porcelain and stoneware to create surfaces to work as canvases for her designs. Each piece has an individual design made from deep relief carvings created to enhance each form.
Anne Thiam
Anne is a ceramic artist whose forms take root in the natural world and is influenced by her time spent living in Senegal, Spain, and the Caribbean. She mainly works with porcelain, utilizing a soft slab technique.
---
Fiber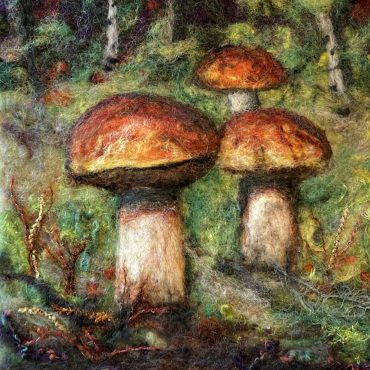 Elaine Farmer
As a traditional landscape oil painter with over 50 years' experience, Elaine  discovered needle felting as a new medium, offering her a way to capture the multitudes of textures found in nature as well as reinterpretations of her own oil paintings.
Patsy Frasier
Patsy is a fiber artist working primarily with needle felting and wet felting techniques. Her greatest inspiration is the smile that she sees when people look at her work.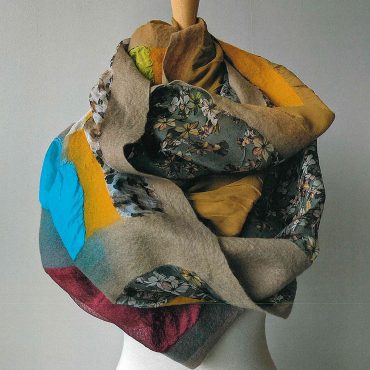 Susan Garry
Susan uses wet felting techniques to wearables, vessels, and wall hangings out of wool and silk. Her work indulges in her passion for color, texture, and design.
Lynda Hadlock
Lynda is a traditional rug hooking artist. She started rug hooking on her own in 1977 in a high school self-directed crafts class. She works with linen backings, wool, silk and other fibers and designs and color plans her work using photos for inspiration along with her own drawings.
Libby Mortensen
Libby enjoys making small needle felted sculptures from wool, mainly inspired by the animals that she sees around her: birds, rabbits, chipmunks, etc.  Many are whimsical characters accented with tiny props or clothing items.
Cheryl Orcutt
We are excited to welcome Cheryl Orcutt back to the League! She has been hooking rugs on and off for the last 40 years. She likes to experiment with various materials including yarns, recycled sari silk, roving, and different kinds of wool textures. She enjoys making work that incorporates color, texture and movement.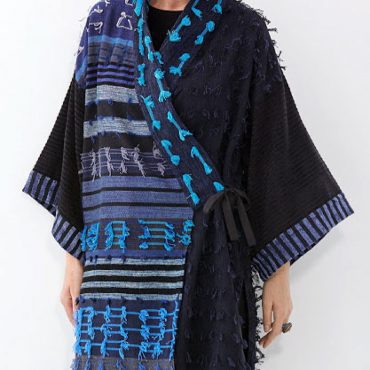 Molly Penner
Molly is a handweaver with a focus on wearables. She works primarily with merino wool, cotton, bamboo, and silk. She learned the craft from her mother and has been working on mastering and evolving her signature complex twills and spaced-and-fulled textiles since she was a teenager.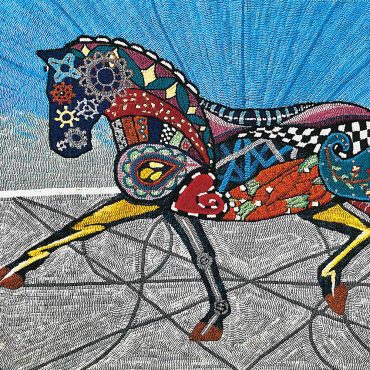 Nancy Qualls
Nancy has spent her entire life doing needlework of all sorts as well as quilting extensively. But when she discovered hooking, it captivated her like nothing had before. She really enjoys challenging herself with different styles, subject-matter, and creating 3 dimensional pieces, all the while exploring the nuances and impact of color for each piece.
Suzanne Rothstein
Suzanne's hand-painted warps are a way for her to create one-of-a-kind projects that reflect the inspirations that surround her from sunsets over the lake to fall foliage in the mountains. Her work includes scarves, ponchos, shawls, baby blankets, throws, dishtowels, and prayer shawls.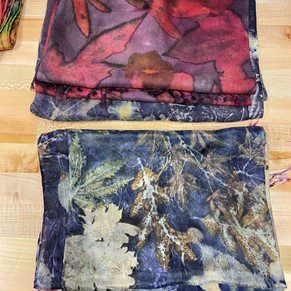 Sophia Seldon
Sophia's work is hand-dyed silk, linen or wool in three categories: botanical prints, shibori designs, and fabric which is hand painted.  Her design ideas come from nature: the woods and garden; light reflecting on water; and landscapes.
Maria Testa
Maria combines her passion for color and texture with her visions of the natural world. She creates hand painted scarves on silk using imported French dyes and a variety of methods, including silk screen printing, hand painting and dyeing techniques on white silk to create a final collage inspired scarf or shawl.
---
Glass
Joe Forrestall
Joe creates flame worked, glass objects of many types, mainly focusing on hollow sculpture. His subject matter is derived from nature with a specific focus on trout, deer, and other animals and has a mastery of recreating animal coloration and patterns.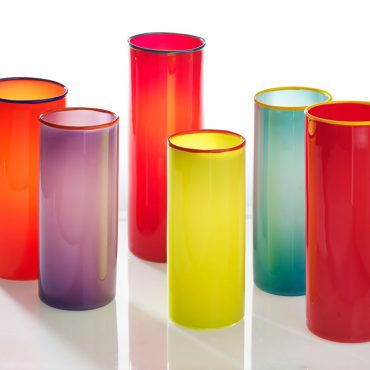 Emery Wenger
Emery's glass work uses traditional blown techniques and hot shop processes. He juxtaposes simple yet elegant shapes with bright pop art colors to create joyful pieces of functional glass.
---
Metal
James Conley
James is a long time precious metals jeweler, working in a variety of materials to make beautiful crafted objects such as rings, pendants, bracelets.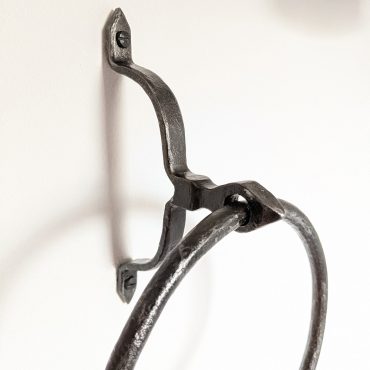 Sam Durfee
Sam is a blacksmith that uses traditional techniques to create functional pieces that are aesthetically pleasing. His work primarily focuses on house furnishings, such as door hardware, hooks, shelving brackets, and various hangers/holders/racks, as well as tools for the forge and yard.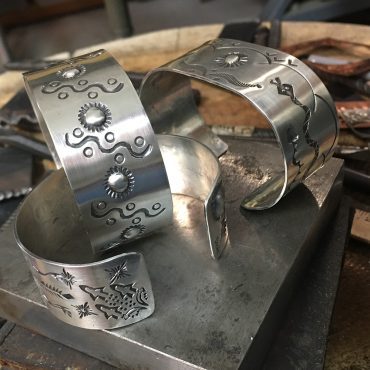 Diane Louise Paul 
Diane is now juried in metal jewelry along with leather. A lifelong-learner, Diane is constantly experimenting with new techniques, and is constantly honing her expertise in both of her juried media areas.  She has been juried in leather since 1998.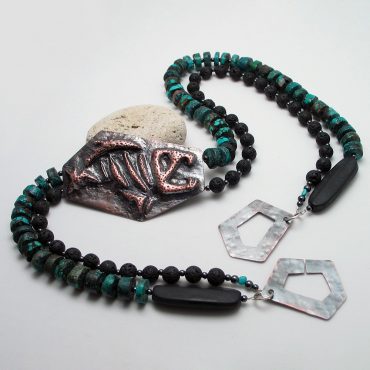 Jo Shields
Jo works with fine silver, sterling silver, copper and brass to create unique jewelry. She also uses found objects like knitting needles and vintage silver plates. Organic objects are her favorite because they present a challenge to imagine a use and how to create with them.
Jan Stigberg
Jan's work is influenced by the aesthetics of her Scandinavian background. She is drawn to the pattern and repetition found in ancient and modern textiles and surface decoration as a jumping off point for many of her designs.
---
Mixed Media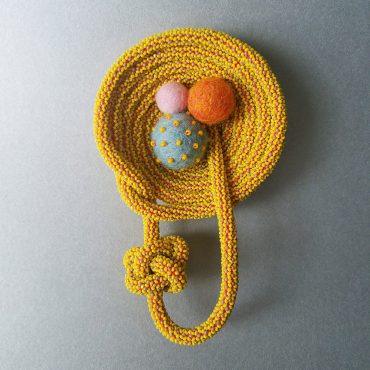 Danielle Gaynor
Danielle creates wearable art pieces using beads, fiber and found objects. Her main techniques are needle felting and different varieties of bead stitching. Her design ideas come from the forms and patterns that she sees in her daily life.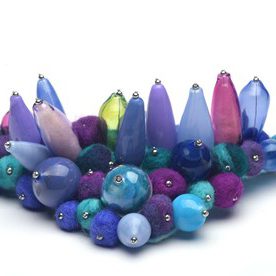 Hethre Larivee
Hethre is now juried in mixed media as well as glass. Striving to explore the bounds of the materials she works with, Hethre quite naturally expanded her work into this new media category.  A 2nd generation glassblower, has been juried in glass since 2006.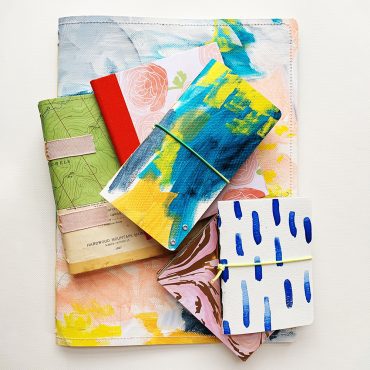 Joy Malcolm
Joy is a bookbinder, mixed media artist and art journaler. She makes one of a kind journals utilizing a variety of binding techniques and art mediums including drawing, printmaking, collage, and painting as well as historical sources such as vintage photographs, ledgers and everyday ephemera.
---
Non-Metal Jewelry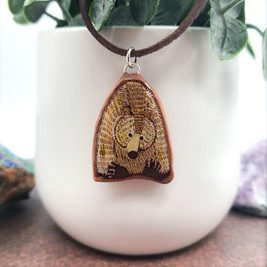 Taylor Sousa
Taylor handcrafts beautifully unique, wearable art from start to finish. Each of her pieces is hand drawn and created individually using artist plastic combined with polymer clay and then sealed with a high-quality resin to a glass-like finish.
Kimberely Zielinski
Kimberely's work usually starts with a cabochon or other focal that sparks her interest. She affixes the stones to a stiff felt and then embroiders beadwork onto the felt around it.
---
Photography
Alicia Bergeron
Alicia is a fine art photographer with a special interest in nature and abstraction. Her current body of work celebrates the shifting light and shadow that only occurs in spring.
Ron Bowman
Ron is a photographer of grand, scenic, and intimate landscapes. The majority of his work has been taken in the White Mountains of NH, or along the coast of NH, ME and Cape Cod.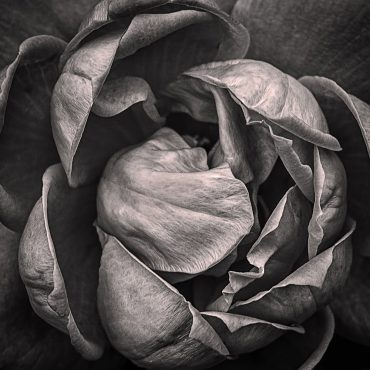 Jim Carlen
Jim is a fine-art photographer who captures landscape, abstract, and macro photo images.  He has been a photographer for over 40 years.
Kendra DiSilva 
Kendra is a self taught photographer who spends a lot of time looking for the things most people do not notice.
Kael Fein
Kael is a photographer who uses a variety of techniques, often taking his images and digitally manipulating them to create surreal environments that could not otherwise be replicated with traditional techniques.
 James Law
Photography has been a lifelong hobby. Now that he is retired he has the time to devote to learning and practicing the various aspects of this art form. His main area of interest is landscape/nature photography.
Stanley Sadkowski
For the past 25 years Stanley has taken award winning images from around the world with a focus on landscape photography.
---
Wood
Brian Bohannon
Brian finds the many different colors and grain configurations extremely pleasing to the eye and he works to highlight these components through each piece for others to enjoy. Early on he began as a bowl turner, over the years progressing to hollow vessels.
Greg Keebaugh and Amelia Hogan
Greg and Amelia make picture frames, cutting boards, planters, and other wood home decor. Their designs are simple and encourage appreciation of the natural wood grains.
Laura Pepper
Laura makes traditional Windsor chairs as well as tables and stools. The chairs are made of pine and oak, ash, and maple. She was inspired by a design by Elia Bizzarri and then ran with it.
Jeff Shepard
Jeff is a furniture maker who creates tables, chairs, desks, cutting boards, and more. He uses a combination of modern power tools and old hand tools.
Deborah Woods
Deborah makes traditional Chainsaw Carving Art. Her work is varied though largely consists of different animals like bears, owls and birds. She makes her work mainly with a chainsaw but also use a few small hand tools to get some finer detail. She thinks of her work as high-end folk art with a bit of whimsy.