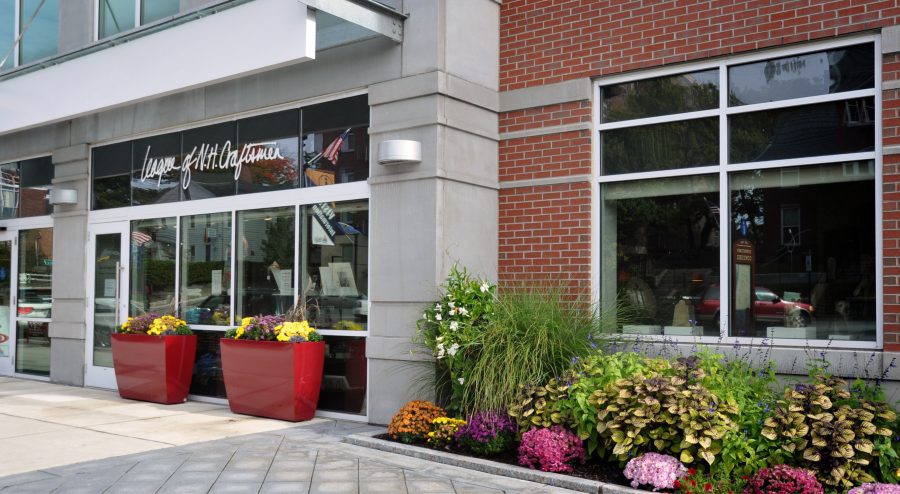 The Headquarters of the League of NH Craftsmen is located in the beautiful Smile! Building on Concord's Main Street, directly across from the Capitol Center for the Arts.
Our address is 49 South Main Street, Suite 100, Concord NH 03301
Regular hours at our Headquarters Offices are Monday – Thursday 8:30 AM – 4:30 PM.
For general questions, please call our offices at 603-224-3375.
You may reach out to a staff member directly as indicated with our extensions below, or select "0" from the menu for our main League voicemail.
To ask general questions via email, please use our nhleague@nhcrafts.org address.
To ask questions related to the League jury process, please use our jury@nhcrafts.org address.
Executive Director – Miriam Carter (mcarter@nhcrafts.org) – Ext 119
Communications and Administrative Director – Sarah Nyhan (snyhan@nhcrafts.org) – Ext 117
Hooksett Gallery Manager/Event Manager – Denise Kirk (dkirk@nhcrafts.org) – Ext 113
Membership and Database Administrator – Lisa Almeida (lalmeida@nhcrafts.org) – Ext 114
Education and Community Outreach Coordinator – Rachel Montroy (rmontroy@nhcrafts.org) – Ext 116
Communications Assistant/Graphic Design – Alicia Bergeron (abergeron@nhcrafts.org)
General League Information –  Front Desk – (nhleague@nhcrafts.org) – Ext 0