Learn about artists and their processes when you visit one of the League of New Hampshire Craftsmen's seven Fine Craft Galleries. Travel across New Hampshire as the fall foliage develops, enjoy the changing landscape and discover each distinctly different location. Read below to learn more about each gallery, its surrounding community, and the engaging events they have planned. Find a full listing of events at the galleries during September and October in our Event Calendar.
To learn more about visiting the State of New Hampshire, please visit VisitNH.gov
---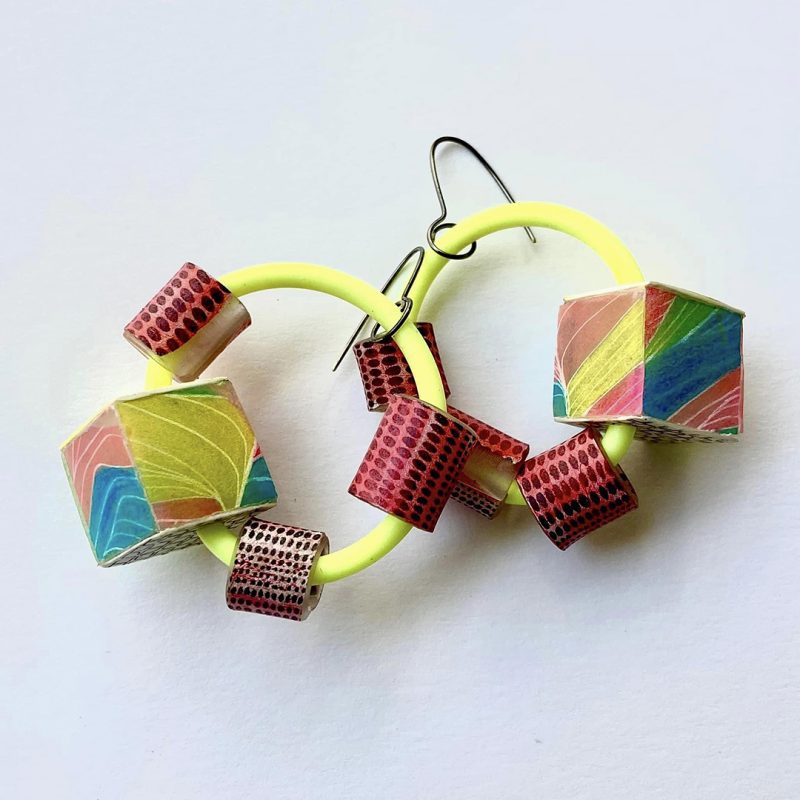 36 North Main Street  |  603-228-8171  |  concord.nhcrafts.org
Hours: Monday 11am – 4pm; Tuesday – Saturday: 10am – 5pm, Sunday: CLOSED
Located in the heart of downtown Concord, the Concord Gallery offers an extensive collection of traditional and contemporary fine craft. The knowledgeable staff can introduce you to varied media, explain craftsmen techniques, and ensure you leave inspired by the work of the League's master craftsmen. Enjoy a stroll down Concord's award-winning main street, lined with boutique stores and charming restaurants, and stop for a photo in front of the state Capital building with its golden dome.
On September 16, Becky Sawyer will be showcasing her skills in jewelry making techniques with a demonstration of hand-drawn jewelry on shrink plastic. She has mastered the art of transforming simple materials into stunning accessories. Becky's unique approach to jewelry making is extraordinary and you will have the chance to learn from the master herself. (Image here is an example of Becky's work.)
On October 14, Bill Mitchell will showcase his expertise in creating a one-color image using a serigraph printing technique.  Known for his mastery of bold and vibrant colors, he will take you through the process of achieving results with just a single hue.
Find details on the League event calendar.
---
Hooksett Rest Area I-93 (N), 530 West River Road | 603-210-2509 | hooksett.nhcrafts.org
Hours: Monday – Friday 9:30 am – 4:30 pm; Saturday 10 am – 4 pm
The Hooksett Gallery of the League of NH Craftsmen is ready for Fall! They will be open their regular hours through the season.  Located in the Hooksett Northbound rest area of I-93, we are the perfect spot for a stop as you head north into New Hampshire for foliage viewing, outdoor activities and of course visits to League galleries throughout the state. Ask our knowledgeable staff about the processes that goes into the making of craft, and visit our oversized version of the 2024 Annual Ornament "Through the Thicket" to admire the varied wood grains within the piece.
---
81 Main Street | 603-444-1099 | littleton.nhcrafts.org
Hours: Wednesday – Monday, 10 am – 5 pm
Nestled in the shadow of New Hampshire's White Mountains and located along the bank of the Ammonoosuc River, Littleton is the hub of the North Country. You will find the Littleton League of NH Craftsmen Gallery in the heart of downtown Littleton.
On Saturday September 30, we will host fiber artist Cheryl Miller in the Littleton Gallery. She is known for her fabric collages and and will be demonstrating her technique of putting together a landscape design, working with hand dyed and batik fabrics stitched on a basic mechanical sewing machine.  She may also make some small pieces using vintage textiles and a mix of machine and hand stitching.  (The image here is an example of Cheryl's work.)
Also on September 30th, the town of Littleton will hold its 54th Annual Art Show from 9am-3pm in the downtown area. Other events that day include an Antique Car Parade, Littleton Garden Club Pie Fest and tours of the downtown by the Historical Society.
On Saturday October 7, we will host jeweler & naturalist Lucy Golden in the Littleton Gallery. She creates many different designs translating the natural world around her into wearable art. Lucy will demonstrate a special technique of sculpting silver metal using a torch flame while creating new work.
Find details on the League event calendar.
---
Route 3, 279 Daniel Webster Highway | 603-279-7920 | meredith.nhcrafts.org
Hours: Monday – Saturday, 10 am – 5 pm; Sunday, Noon – 5 pm
Located in the quaint little town of Meredith, NH, the League of NH Craftsmen Gallery showcases the beautiful hand-crafted work of over 250 artisans. With active classroom and demonstration spaces, the Meredith Gallery is the perfect spot to learn more about the processes behind the craft, and try your hand at making your own masterpiece.
On three weekends in September, the Meredith Gallery celebrates craft through Autumn Artistry: A Series of Demonstrations. The Gallery will host League artists who will demonstrate their creative processes in non-metal jewelry and two types of fiber arts. On September 9, engage with Becky Sawyer as she crafts her one-of-a-kind hand drawn and colored jewelry (see an example of her work in the picture here of autumnal earrings). On September 17, we welcome Nancy Evans, who designs and creates nuno felted wearable art. And on September 23 the featured demonstrator will be Patsy Frasier, who uses needle felting to create fiber sculptures, beginning with loose wool.
The Meredith Gallery is holding numerous classes during September and October as well, featuring Basketry with Ray Lagasse, needle felting with Patsy Frasier, and tapestry weaving with Lisa Almeida. Also on the schedule are jewelry making classes with Joy Raskin and a mixed-media "picfolio" class with Gay Ayers. Find details on the Meredith website, or the League event calendar.
---
98 Main Street | 603-595-8233 | nashua.nhcrafts.org
Hours: Tuesday, Wednesday, Friday & Saturday 10 am – 5 pm; Thursday 10 am – 6 pm;  Sunday 11 am – 3 pm
Celebrate the natural and architectural landscapes of Nashua, NH along with art that compliments the surrounding communities.  There are a number of fun community events being held in Nashua during the fall season – be sure to mark your calendars and join in! September 3-16: Fall Window Décor Competition in Downtown; September 17-24: Apple Week; October 28: Trick or Treat on Main Street – Children only; October 28: Monster 'Nash' Event. Haunted river 'parade' of decorated kayaks
The Nashua gallery has special exhibitions planned to highlight the colors of autumn. In September, celebrate the beauty of New Hampshire's mountains with the amazing photography of Randy Roos (see an example of his work shown in the image here). This special mini exhibit will be on display from Saturday September 2 through Sunday September 10.
In October, experience the colors of New Hampshire's fall foliage captured in Emery Wenger's hand blown colorful functional glass décor. This mini exhibit runs Saturday October 7 through Sunday October 15.
Try the art of basketmaking with Ruth Boland at the Nashua Gallery on Thursdays and Fridays in both September and October. Find details on the Nashua Gallery website or League event calendar.
---
2526 White Mountain Hwy | 603-356-2441 | northconway.nhcrafts.org
Hours: Monday – Friday, 10 am – 5 pm; Saturday, 9:30 am – 6 pm; Sunday, 9:30 am – 4:30 pm
With the backdrop of the White Mountain National Forest, and Mt. Washington, the tallest peak in the Northeast, visitors to the North Conway NH area can choose from a multitude of outdoor adventures. The four-season activities include some of the finest skiing, snowmobiling, hiking, golfing, fishing, canoeing, camping, and leaf peeping in the entire country. Enjoy local cuisine in one of the nearly 100 area restaurants and cafes. See a play at one of the area playhouses. Hop aboard the historic Conway Scenic Railroad and take a memorable trip or enjoy another of the region's many family-friendly attractions. Stay for the weekend in one of North Conway's numerous lodging choices. Whether you are looking for a rigorous outdoor adventure, a fun-filled family vacation, or just a quiet get-away, the greater Mt. Washington Valley area has just what you are looking for.
The North Conway Gallery features its own Creative Studio, with a fully-appointed pottery studio for classes and demonstrations.
Engage with an experienced pottery demonstrator on Saturday September 9 (Jennie Blair) or Saturday September 16 (Karissa Masse).
During September and October, students can take a four-week wheel-throwing class, or take an afternoon workshop to learn how to make stamps to use on your clay pieces, or how to create textured handles for your clay creations! Find details on the North Conway website, or the League event calendar.
---
32 Main Street (On the Green) | 603-284-6831 | centersandwich.nhcrafts.org
Hours until October 9: Monday – Saturday 10 am – 5 pm; Sunday Noon – 5 pm. Closing for the season on October 9th – visit the gallery site for special events during the holidays.
Visit Center Sandwich. NH to take in the feel of a traditional New England village, and experience one of the first League galleries, open since 1926. Explore the wide range of craft, and learn more about what makes this gallery and its artists an important part of the Sandwich community.
During September, knitters can learn how to make mittens in a three-week workshop "Knitted Mittens: From Plain to Fancy" (sign up information on the gallery website).
In the first week of October, the gallery hosts is 8th Annual Fall Weaving Workshop, designed to meet the needs of all weavers, from novice to experienced. Led by local artist and League juried weaver Sara Goodman, this five day workshop is currently full, but will accept names for a waitlist.
On September 16, the gallery's "Artist on the Porch" series will feature the work of photographer Lawrence Elbroch and printmaker Victoria Elbroch. Find out more about the special collaborative work this husband and wife have begun to create (an example of their work is shown here).
Find details on the League event calendar.
---