The League of NH Craftsmen, in partnership with the Maine Crafts Association (MCA), is excited to announce the 2023 Craft Apprentice Program Capstone Exhibition.
Opening Reception:
Friday, October 6th, 5-7pm
The Craft Apprentice Program is an opportunity for Maine- and New Hampshire-based mentor craft artists and apprentices to learn and create together. MCA worked diligently over the past year to expand this exceptional program into New Hampshire. Maine, now entering its eighth year of CAP, will host six of the nine pairs, and New Hampshire will host three pairs during their pilot year.
---
Meet the Mentors + Apprentices
Richard Foye + Mucuy Bolles: Brattleboro + South Newfane, VT
This clay based apprenticeship will be based around Mucuy's desire to be able to mix her own glazes and experiment confidently with new recipes by learning the John Reeves' method of analyzing raw materials. She also wants to build her own raku kiln and dive deeper into concepts of firing methods and processes. Other goals will focus on refining Mucuy's throwing techniques, being able to create even larger pieces by throwing in sections and improving the line and overall harmony of her shapes.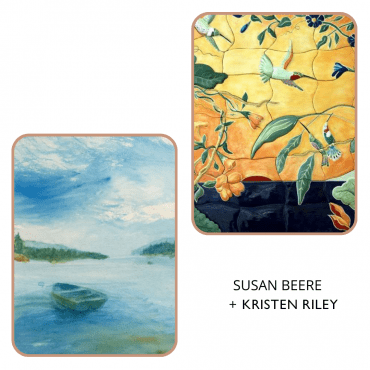 Susan Beere + Kristen Riley: Warner, NH
This clay based apprenticeship will focus on learning the end to end process of tile creation. They will work on flat tiles and relief methods, adding details, layering glazes, combining textures, and how all of these elements react to the firing process and produce different outcomes. Then Kristen would like to learn how to branch out into some larger works incorporating Susan's signature relief methods and potentially a frieze, lamp, or frame with the overall goal of making work that is interesting, professional and unique. Learning the business side of Susan's practice will also be shared throughout their time together.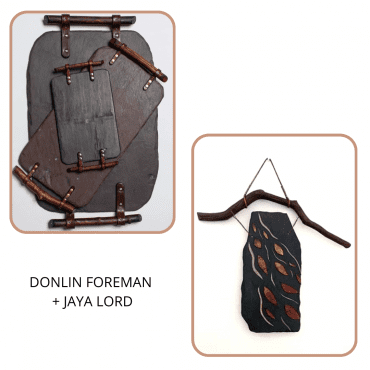 Donlin Foreman + Jaya Lord: Harrisville + Peterborough, NH
This leather based apprenticeship will be focused on forming and surface techniques. Jaya will be exploring wet molding including hand shaping, shaping with modeling tools, building molds and using found objects as molds to make bowls, mugs, masks, and wall hangings to name a few. For surface work, she will be learning more in depth techniques for leather tooling, then diving into embossing by carving linoleum blocks to press the leather into and deepening/defining the image with modeling tools.

---
2023 Craft Apprentice Program Apprenticeship Pairs:
Donlin Foreman with apprentice Jaya Lord (Leather, NH)
Karen Orsillo with apprentice Jade Ruscio (Ceramics, ME)
Marian Baker with apprentice Lydia Johnson (Ceramics, ME)
Matthew Arcara with apprentice Daniel Klingsberg (Wood instruments, ME)
Pilar Nadal with apprentice Nicole Manganelli (Printmaking, ME)
Richard Foye with apprentice Mucuy Bolles (Ceramics, NH)
Richard Reitz Smith with apprentice Sharon Gallant (Book arts, ME)
Sarah Haskell with apprentice Katherine Ferrier (Textiles, ME)
Susan Beere with apprentice Kristen Riley (Ceramics, NH)