At League Fine Craft Galleries across New Hampshire:
---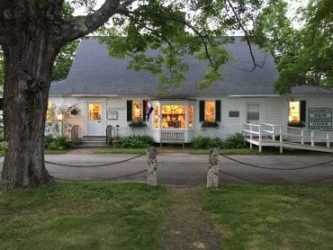 Center Sandwich
32 Main Street, Center Sandwich, NH 03227
Demonstrations and Sales by
The Sandwich Fiber Arts Group
Saturday Sept. 24th from 10 am to 2 pm
Please join us for a celebration of traditional fiber arts in Center Sandwich, NH. Local fiber artists will demonstrate spinning, knitting, and more. Word has it that some of their sheep will make an appearance also! Donna Carlucci of Kindred Spirit Farm will be outside the the gallery selling her own yarns, handknit hats, dryer balls, kitty woolen catnip toys, dog treats, handcrafted herbal balms for your cracked hands, candles, herbal soaps and lots more! Anne Richards (a descendant of one of the League's founders, Mary Coolidge) will sell her hand-knit climate critters to benefit the Citizens Climate Lobby. Jennifer Elliott will bring a variety of her lovely hand-knit items for sale. There may be one or two other local fiber artists who will join in on that day with a few surprises for us.
The Center Sandwich Gallery, originally founded in 1926, continues to offer a wide selection of handcrafted gifts made by Juried Members of the League of NH Craftsmen. Step inside this historic shop for fine quality traditional and contemporary craft when you visit.
---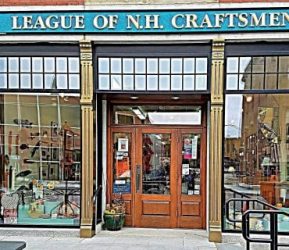 Concord
36 North Main Street, Concord, NH 03301
Demonstration by Laury Nichols
Saturday Sept. 24th 12:00 pm onward
Laury Nichols will be demonstrating her wood carving and answering questions about her technique in creating her sweet small creatures.
NH woodcarver Laury Nichols has been a juried League member since 1976. Her highly detailed animal carvings, sparkling with personality, have brought smiles and wonder to many and continue to be added to collections in New England and internationally. Stop by the the Concord Retail Gallery to see how Laury creates her small detailed carvings using a simple hand-held X-acto knife.
The Concord Gallery offers an extensive collection of traditional and contemporary fine craft. Inspired by the vision, skill and passion of New Hampshire's finest craftspeople, it is a destination for handcrafted excellence.
---
Littleton
81 Main Street, Littleton, NH 03561
Demonstration by Beth Simon 
Saturday Sept 24th 11:00 am  to 1:00 pm
Stop in for a rolling mill demo with Beth Simon, League juried metalsmith who uses varying textures to create patterns in metal to use when creating her jewelry designs. During the demo time you will also be able to try it! Beth is the Littleton Gallery owner and has been state juried in metal jewelry since 2014.
Littleton will be a busy place with the 53rd Annual Outdoor Art Show. The Littleton Gallery is open 10-5 both Saturday and Sunday – visit this beautifully curated gallery filled with fine craft by over 200 League juried craftsmen. Holiday ornaments are in stock including the League's Annual Ornament "Season's Splendor".
---
Meredith
279 Daniel Webster Hwy, Meredith, NH 03253
Demonstration by Molly Harper 
Saturday Sept 24th 11:00 am to 2:00 pm
Sunday Sept 25th 1:00 pm to 3:00 pm
Join League of New Hampshire Craftsmen member Molly Harper for a pottery demonstration at the Meredith Fine Craft Gallery on September 24th & 25th! Best known for her unique and intricately detailed birch-bark ceramics, Molly will throw forms on the potter's wheel and demonstrate the many steps it takes to achieve her realistic bark look. You may even get a chance to try your own hand at the wheel! After visiting the demo, come on inside and browse the work of dozens of other talented League Craftsmen. Molly will be demonstrating her craft under the pergola on Saturday from 11:00 am – 2:00 pm and Sunday from 1:00 pm – 3:00 pm.
---
Nashua
98 Main Street, Nashua, NH 03060
Demonstration by Ruth Boland 
Saturday Sept 24th 11:00 am – 1:00 pm
Join League basket maker Ruth Boland for basket making demonstrations at the Nashua Fine Craft Gallery on September 24th. Ruth has been making baskets since 1991 and has been a state-juried member of the League of NH Craftsmen since 2002. Ruth is also a past member of the Board of the Northeast Basketmakers Guild. Her hand shaped baskets often involve strong colors, intricate patterns, and a contemporary feel. Ruth has shown her work at juried exhibits throughout New England.
Ruth will be demonstrating inside the Nashua Fine Craft Gallery from 11:00 am – 1:00 pm. Enjoy learning more about this fascinating process and browse the gallery to take in the work of League members in an array of media categories during your visit. It is never too early to begin your holiday shopping!
---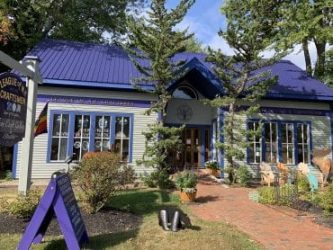 North Conway
2526 White Mountain Highway, North Conway, NH 03860
Pottery Demonstrations
Saturday Sept 24th  1:30 pm to 4:30 pm  Karissa Masse
Sunday Sept 25th  11:00 am to 2:00 pm  Jennie Blair
Visit the North Conway League of NH Craftsmen gallery on September 24th & 25th and find your way down to the pottery studio to watch pottery demonstrations by juried potters Karissa Masse and Jennie Blair.  Karissa will be demonstrating pottery and sculptural techniques on Saturday the 24th from 1:30 pm to 4:30 pm, and Jennie will be demonstrating wheel-throwing on Sunday the 25th from 11:00 am to 2:00 pm.
With a BFA in ceramics from RIT, Karissa Masse has been a League juried ceramic artist and potter since 2002, making elegant figurative sculpture and fine functional ceramics.  Jennie Blair is a League juried potter who worked as a professional potter in Montana for over a decade. Her skillful pottery is unique and earthy, and has become a favorite in the League community. Jennie has a BFA in ceramics from Plymouth State and operates a sustainable farm when she's not making pottery.
Established in 1932, the North Conway League of NH Craftsmen Gallery has become a landmark for locals and visitors alike, exhibiting the finest of New Hampshire's crafts and furnishings. Customers enjoy the selective blend of sophisticated contemporary craft along with historical and traditional favorites.
---