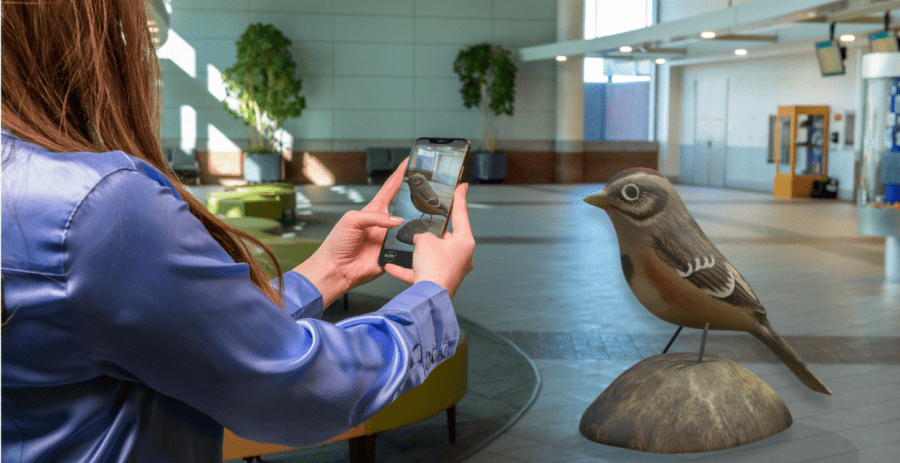 The League of NH Craftsmen is helping to put the creative economy to work in New Hampshire.
We are proud to be partnering with the New Hampshire Business Committee for the Arts and Aery AR at the Manchester-Boston Regional Airport where fine craft is featured in an augmented reality art exhibition beginning on December 9th, 2020 and continuing through May of 2021. Employing this new technology allows the League to introduce visitors to fourteen objects created by juried craftspeople featured in the League's Permanent Collection. This art exploration is the first of its kind to be featured in the greater New Hampshire area. We are excited to be part of this highly unique opportunity to promote NH art and craft. The virtual exhibition comes at a time when socially distant art exhibitions are the new norm due to COVID-19. The beauty of this virtual art experience is that it will extend beyond the airport through the Aery app, allowing users to learn about the League in any location where there is access to Wi-Fi.
Enjoy the virtual exhibition wherever you and your iOS device are by downloading the Aery app.
Follow the League of NH Craftsmen on our social media channels for regular updates regarding our juried members, our Fine Craft Galleries, and upcoming events.
League Facebook League Instagram

Those who are excited by the work of our members are encouraged to learn more about craftsmen processes by engaging with our library of videos. If you are interested in supporting the work of the League, we hope you will investigate our Supporting Membership options or consider a donation to our Annual Fund.
Enjoy an article about the Exhibition in the Hippo Press It is great to see the word spread across the region!
THANK YOU TO OUR PARTNERS AND GENEROUS SPONSORS